Symplexis is a Greek not-for-profit organization that strives to ensure equal opportunities for all through actions and measures that build skills, empower and promote active engagement and participation focusing on the most vulnerable categories of the population and particularly those with fewer opportunities. Symplexis' mission is to elevate social cohesion through integrated actions and project-based activities that aim at promoting the inclusion of disadvantaged groups at risk of marginalization and exclusion while promoting and protecting the rights of various types of population groups that face discrimination focusing on the empowerment and support of victims, awareness raising and information sharing at all level.
Symplexis' activity builds on user-led approaches and interventions around four main axes of expertise, namely: 1. The social and economic inclusion of those most in need comprising a wide variety of activities aimed at reducing poverty, preventing marginalization, and promoting sustainable integration of disadvantaged groups, particularly focusing on Third Country Nationals. 2. The protection and promotion of human rights through activities and interventions that address the needs of a wide range of discriminated population groups, such as women, children, and elderly people, victims of violence and human trafficking, the LGBTQI community, Roma and unaccompanied minors, migrants and asylum seekers/ refugees. 3. Upskilling, capacity building, and empowerment of vulnerable groups with the aim to promote equal access to formal and non-formal education for all and promote lifelong learning focusing on low-skills individuals that face difficulties in (re-)entering the labour market. 4. Child and youth development through actions and projects designed to reduce youth poverty, promote child protection and stimulate social inclusion and development.
Meet the Team
in LightCode Project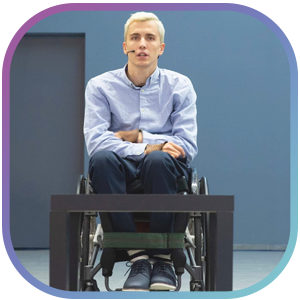 Grigoris Chryssikos has studied Economics (Athens University of Economics and Business) and works as Project Officer in Symplexis since 2021. He is a quadriplegic after an accident in 2017 at the age of 22 and has since then been active in the field of disability. He has been involved in actions and projects about the accessibility of the association "PERPATO" where he is also a member of the board since 02/2022, he has participated in the documentary "As far as the sea" (Marco Gastine, 2019) about rehabilitation, he is the co-founder/admin of the NGO/Instagram & Facebook account "Cool Crips" (more than 25,000 followers), whose goal is disability mainstreaming and increasing visibility of disabled people and he has been a speaker in a significant number of events about disability. He is also an active Para Table Tennis athlete and three times Greek Champion (2020, 2021, 2022) in Class 1.